NETTOP-UIS has a practical approach to the development of digital teaching and the implementation of e-learning. We work both internally at UiS, but also for external clients. Our starting point is always the learning goal and the teacher's pedagogical goal.
Recent projects
Competence
NETTOP-UIS is a department with ten employees who have solid expertise in methods and development of digital learning content and online education.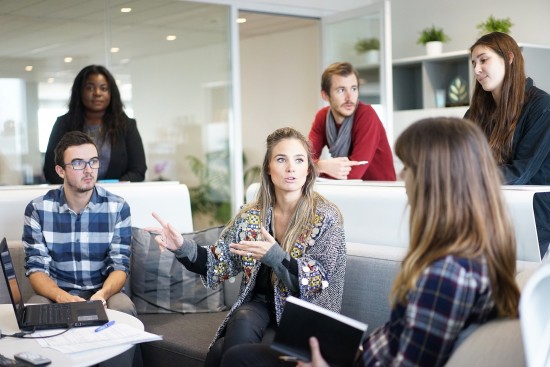 Most employees in NETTOP-UIS have worked with the development of solutions for e-learning in higher education for almost 20 years. Prior to this, since the early 1990s, several have worked in consulting and production companies with the development and implementation of tailor-made e-learning solutions for various private and public companies both nationally and internationally. Previous experience and expertise also includes the advertising industry and TV and video production for the national broadcasters.
Our starting point is, that if you are going to work with multimedia, digital learning content and online didactics, you must first and foremost have an understanding of the medium you are going to work with, and how it can best be used to achieve given learning objectives for a defined target group or purpose.
The expertise in NETTOP-UIS covers the following areas: • online didactics and concept development • media science • journalism • text and manuscript • video production • illustration • web and graphic design • system development • technical development and programming • web publishing and digital content management • streaming video through Mediasite • project management • project applications nationally and EU • finance and reporting
We also collaborate with the IT department at UIS and an extensive network of subcontractors and freelancers locally, nationally and internationally, which we use when needed. NETTOP-UIS has always seen the value of collaborating with other companies nationally and internationally. One of our employees therefore has project applications and administration as his task. We are at all times involved in, or coordinate, several national and EU projects.

Online didactics
A classic, but still current didactic model. Didactic relational thinking is a classic model for didactic planning, which is also very relevant in the planning, development and implementation of online education and digital media and tools for learning.

The goal, or the learning outcome, may be the same. But when the framework conditions change from campus-based to online-based, working methods, content and assessment methods must change accordingly. These factors are also influenced by the students' prerequisites, which in this context also include their ability to use digital tools and the web as an environment for learning.
"Online education" is not a single method or a single solution. On the contrary, the web and digital media and tools provide a variety of educational opportunities. These will naturally vary depending on the media, tools and technologies used. Some solutions are primarily suitable for digitizing traditional teaching methods. The content is the same, but new features are added: Recording of a lecture can be repeated when, where and how many times you want. A text can be distributed free of charge and quickly, on a large scale, or occur in interaction between several people, across time and place. But digital technology also involves unique features that provide educational opportunities that will not be possible to achieve in other ways: Game and simulator-based solutions provide a secure environment where learning will not be limited by natural physical and practical boundaries. In such a virtual learning environment, all actions and results can be registered and used, in a learning analysis, to immediately facilitate learning in relation to the individual's individual needs. The prerequisite is of course the web and digital tools and teaching aids such as the environment, or framework condition, for learning.
Didactic relational thinking is a model for didactic planning, implementation and evaluation that has been widespread in Norway. It was first described in 1978 in the book Nye veier i didaktikken by Bjarne Bjørndal and Sigmund Lieberg. It has been the most widely used planning model for teaching in teacher education in Norway in recent decades (Hiim and Hippe 2006). The development of digital learning content and the opportunities these provide for online education have made the model more relevant than ever. It shows that focus is not "technology" in itself, but that "technology" as a framework condition will have an influence on working methods, content and forms of assessment. 
International projects
NETTOP-UIS is a partner in, but also leads international projects, such as Erasmus + programs. The 360ViSi project is one of them.
360ViSi is an international collaborative project with the goal of developing innovative learning methodologies in health education using interactive 360 ​​° video technology. The project is co-financed by the EU's Erasmus program.
University of Stavanger (UiS) is heading up the project through The Faculty of Health Science and NETTOP, the e-learning development department at UiS.
Solving European challenges in health training
Europe has an increasing need for health workers, partly due to an ageing population requiring long term care. The education of health workers, particularly nurses, includes a substantial amount of practical training. This poses challenges in terms of access to training facilities, cost and quality of the training.
360° consumer video tools may increase access to low-cost simulation training in Health Education, and thereby compensate for the lack of access to training facilities.
The project aims to develop an innovative learning methodology for utilising 360° video technology and hence stimulate the flow and exchange of knowledge between higher education and enterprises.
The project also aims to initiate new business opportunities for companies that develop services, products and technologies related to learning.
Learn more and follow the project here.
Prosject partners:
University of Stavanger, Norway
University of Nottingham, United Kingdom
The Catholic University of Valencia "San Vicente Mártir", Spain
Turku University of Applied Sciences, Finland
Contact us