New ideas and concepts are the key to prosperity and to the wealth and wellbeing of nations, regions and individuals. As the world becomes more globalized, the advanced, high-wage economies must rely on their applied inventiveness to maintain their future prosperity. This has become an imperative for a rich country like Norway and its energy capital the city region of Stavanger.
There is a growing expectations that a large public sector should offer improved and easily accessed services, efficiently produced by innovative processes and distribution channels. Hence the need both for radical reforms and continuous user led innovations. Not surprisingly therefore, innovation has become a major field of study in economics, management, sociology, science and technology, and history.
Administrative contact
Åse Lea Telephone (+47) 518 33 747 E-mail: ase.lea@uis.no
Visting address:
UiS Campus Ullandhaug The UiS Business School Elise Ottesen-Jensens house Kjell Arholms gate 35 4021 Stavanger
Postal address:
University of Stavanger Centre for Innovation Research N-4036 Stavanger Norway
About the Centre
The University in Stavanger (UiS) and NORCE (former IRIS) established a joint centre for innovation research.
Realizing that most innovation processes take place in organizations, studies of the micro foundations and management of these processes in enterprises and the public sector are essential.
Our collaborative studies with industry and governments inform policy and strategy regionally, nationally and internationally.
Kåre Hansen
Research manager, NORCE
Åse Lea
Secretary of the Board
Diversity facilitate innovation
The Gjedebo Family Donation to Innovation Research at UiS
The Gjedebo family donated in november 2007 50 million NOK to establish a Center for Innovation Research at UiS. The center is jointly managed by the University of Stavanger and NORCE.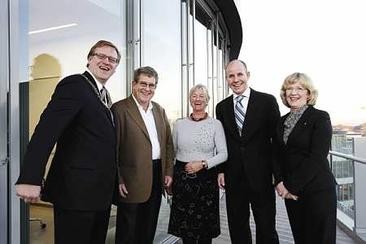 The donation is one of the largest gifts ever made in Norway. It have made it possible to develop a research environment which is unique both in Norway and internationally. The center conducts research at a high international level within innovation and contribute to value creation and welfare.

The research provides a better basis for education and development of entrepreneurial attitudes in companies, the public sector and among students. The proximity to students and the research environment increase the catchment area for potential entrepreneurs and promote technology development and incubator activity at Ullandhaug.

University builder
Behind this donation is Mr. Jon Gjedebo, his wife Mrs. Torunn Lange Gjedebo and their two sons, Tore and Finn.

We had for some time been thinking of giving a donation to the university and looking for the right purpose and opportunity. It all came together when we heard of the Center for Innovation Research. It fit like a glove. This was just what we had been waiting for so the choice was very simple, said Tore Gjedebo, managing director of Styrbjørn AS, the family investment company.

The father, Jon Gjedebo, is one of the most successful and innovative entrepreneurs in the Stavanger region. His company Hitec was for many years one of the region's most important businesses with its high technological and innovative products linked to remote controlled drilling operations. The company was later sold to National Oilwell.

Jon Gjedebo has distinguished himself through the establishment of industrial centers at Hinna Park in Stavanger and in Asia together with large investments in real estate in Norway and abroad. He has earlier donated four million to UiS and is therefore among the university builders who played a decisive role in the establishment of the university.

Torunn Lange Gjedebo has been an enthusiast in the development of Nasjonalforeningen in Stavanger and of the senior citizen center Skipper Worse which she managed for many years. She has contributed to a renewal of senior citizen policy in Stavanger

Of great importance
The then Rector Aslaug Mikkelsen appreciated the donation from the Gjedebo family. She underlined that the center would be of great importance for research and innovation in a number of areas. It would also contribute to developing a culture of inquisitiveness and innovation at Ullandhaug founded on our applied and basic research.

Jon Gjedebo response:

Rogaland is an innovative region and there is much innovation to do research on. Stavanger has a history as Fortuna's city with industrial development from canning to printing and petroleum and then to finance industries. Stavanger is a natural place for this center.

Energy and Welfare
Technologically based innovation is decisive for creating welfare in society. Research at UiS and IRIS is a rich source for such development.

The Center for Innovation Resarch have an interdisciplinary profile and focus on solutions of important challenges in society and industry. To study the conditions necessary for success is a central topic.

There is a need for new technology to reduce the emission of climate gases, and to develop alternative forms of energy. Hence there is a need for new products and services which can support the welfare society and at the same time handle the cost of our way of life, Global challenges have to be solved regionally and that the region always has been known for innovation, entrepreneurs, go getting spirit and politicians who are willing to follow up.

The center will try to formulate what is little understood and ask questions about how understanding can become possible and contribute to comprehension. Both faculty and students play an essential role because they possess competence to be used in innovation. It all about releasing creativity in each other. Solve problems in cooperation and break down barriers, she concludes.
Researchers
PhD Candidates