The International Conference on Computational Methods & Ocean Technology (COTech) and Oil and Gas Technologies in Cold Climate (OGTech) is hosted by University of Stavanger November 25-27.
Registration
Deadline: October 20
Staff or students affiliated to UiS can register here
University of Stavanger (UiS) and Russian State Gubkin University of Oil and Gas are organizing a joint event of 3rd COTech conference and 2nd OGTech conference in Stavanger and Moscow respectively.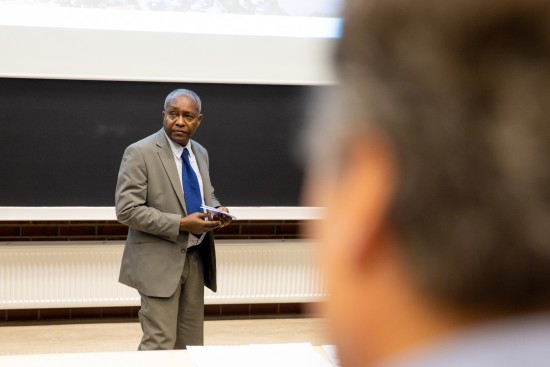 COTech conference was initiated by a group of academics at Department of Mechanical and Structural Engineering and Materials Science (IMBM) in 2017 and this year, the conference is organized for the 3rd time. This year's COTech conference is conducted as part of the dissemination activities of the Institute Strategic Program (ISP) established under the research activities of the department. OGTech conference is part of a collaborative project called UTFORSK between a team of researchers from University of Stavanger and Gubkin Russian University of Oil and Gas.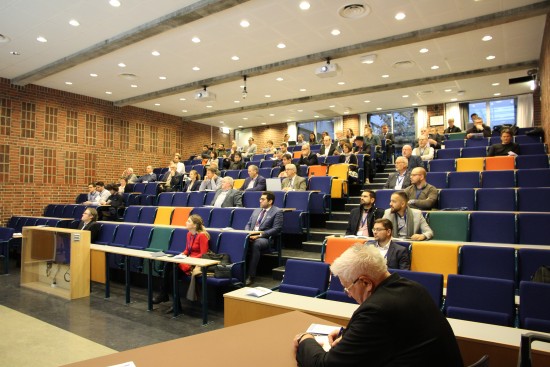 The conference is organized as a hybrid event and authors can present either online or onsite (physical presentation at University of Stavanger and Russian State Gubkin University of Oil and Gas in Moscow).
More information is available here.
Registration and programme
Staff or students affiliated to UiS can register here
See more information about fees, venue and more below. Registration closes on 20 October.
Programme will be published soon. More information here.
Registration will be open to October 20. Register here!
The conference fee for each article is 250 €. This covers publishing an article online, two lunches and one conference dinner. Participants who register for more than one article pay 125 €  for each additional article. Participation without papers is free of charge. However, those who participate on lunch, excursion and dinner should register and pay (more information here).
The conference is organized at University of Stavanger and at Russian State Gubkin University of Oil and Gas.
We are planning a hybrid event where authors can present either online or onsite, i.e. both at University of Stavanger and Russian State Gubkin University of Oil and Gas in Moscow.
Address at UiS: Kjølv Egelands hus, Aud. E-102 (see map). Entrance West, Kristine Bonnevies vei
Current information about the covid-19 related restrictions/regulations for entering Norway is available here. 
Regulations are being updated continuously. 
Join our Technical Tour
Join us for the technical tour to Norwegian Petroleum Museum on Thursday, November 25, 2021  (17:00 – 19:30). More details to come!
Norwegian Petroleum Museum in Stavanger shows how offshore operations have become Norway's most important industry, and gives you experiences of this activity.
Conference excursion
Join the Lysefjord cruise with Rygerelektra on November 27 (11:00 – 14:00)
Price: NOK 580 (separate registration)
Gary Wang
Topic: AI-driven Design Optimization and Its Applications
Dr. Gary Wang is a professor at Simon Fraser University. Dr. Wang's research interests have been in the area of design and advanced manufacturing.  He has more than 200 referred articles with a large number of papers published in field top journals. He is the most cited scholar worldwide in the area of Intelligent Optimization, and his research lab is recognized one of the world top labs in the field of design optimization. In 2020 Mendeley study, he was ranked No. 15 of the top 2% scholar worldwide in the large field of Design Practice and Management across all disciplines. Dr. Wang is the recipient of the 2014 SFU Excellence in Teaching Award, 2015 FAS Award of Excellence for Teaching, the 2007 Rh Award from University of Manitoba for outstanding research contribution, as well as the 2005 National I. W. Smith award for creative engineering from the Canadian Society of Mechanical Engineering (CSME). Dr. Wang has been serving as an associate editor for Journal of Engineering Optimization since 2010, geographically representing North America. He also served as an associate editor for the best journal in the field of mechanical design, ASME Transactions, Journal of Mechanical Design in the period of 2013-2019. He is recognized as one of the world leaders in his area and was elected to the rank of ASME Fellow in 2013.
Po Wen Cheng
Topic: How numerical simulations helps the wind turbine growth from 50 kW to 15 MW
Dr. Po Wen Cheng studied aerospace and aeronautic engineering at TU Berlin where he encountered wind energy for the first time. He continued his education at TU Delft and completed a PhD on offshore wind energy, focusing on stochastic modeling of the extreme response. He joined GE Wind after graduating from TU Delft and worked on offshore wind and new technology developments for 9 years. In 2011 he had been appointed to the wind energy chair at the institute of aircraft design, the University of Stuttgart.    
The main research area in the wind energy working group are, 
Application of measurement technology for wind energy. SWE has been an early adopter of the lidar technology. The focus is the use of lidar for control of wind turbines, wind farm control, wind resource assessment. SWE has several lidar systems for different applications, nacelle mounted lidar for power curve and control application. Long-range scanning lidar system for wind farm flow measurement and short-term power forecasting. For high-resolution measurement of the turbulence, SWE has developed   multi-UAS (Unmanned Air System) to measure the inflow and wake of wind turbines. 
Modeling and control of wind turbine and wind farms. SWE has been developing modeling techniques that deals with the different fidelity and scale requirements for wind energy applications. Low order models have been developed for controller design and monitoring purpose, medium fidelity models are for load analysis and system design and high fidelity model for investigating specific aerodynamic and hydrodynamic phenomena that cannot be captured with simplified models. The modeling includes single wind turbine, both bottom fixed offshore and floating as well as modeling of a complete wind farm.
Marion Seiersten
Topic: Top of line corrosion in gas-condensate pipelines
Chief Scientist at IFE since 2015 and has since 2017 hold a professor II position at the University of Stavanger. Major professional contribution:  Regeneration of glycol used as hydrate inhibitor, internal corrosion of pipelines for oil and gas, and on application of titanium alloys. Responsible for the work on hydrate inhibitors at IFE. Project experience: Project manager for numerous projects at SI/SINTEF and IFE. Currently managing the Kjeller MEG Loop (KML) projects which have been running since 2005. The projects are organised as joint industry projects financed by the industry and the Research Council of Norway (phase 1 and 2). The projects have ca. 10 industrial sponsors, and the yearly budget has been in the range 5-10 mill. NOK. The major operators and vendors of MEG regenerations plants worldwide are partners in the project.
Other experiences: Supervisor for 3 PhD students and 2 post docs within corrosion and crystal growth during the last 10 years. Member of the programme board Petromaks and Petromaks 2 (Programme for Optimal Management of Petroleum Resources within the Research Council of Norway), 2011 to 2016. Member of the board of OG21 (Task Force for Norwegian technology strategy within oil and gas), 2008-2011. More than 100 publication and presentations on CO2 corrosion, glycol chemistry, application of titanium alloys, high temperature corrosion and ceramics.
Anatoly B. Zolotukhin
Topic: New trends in technologies of the development of the resources in the Arctic and High North
Abstract: Public opinion is slowly but steadily leaning towards replacing hydrocarbons with alternative energy sources. This is causing quite exciting processes in the oil and gas sector of the economy itself. Some companies consider oil and gas to be outdated and are therefore reformatting their assets. Others believe that hydrocarbons will play a vital role in the energy sector for a long time to come, and therefore it is too early to write them off.
In the oil spill combat, border countries should have the same qualification, experience in working together. Such areas are everywhere where companies are working together. The next and probably, the most important point – the High North and the Arctic.
The most intensive technology development occurs in the field of solving problems of optimizing projects for the development of oil and gas fields, assessing the technical accessibility of territories and water areas and assessing the environmental consequences of the development of new territories and water areas, searching for new and optimizing existing drainage systems, creating new technologies for oil and gas production, methods and drilling techniques, multiphase fluid flow, pipeline diagnostics, etc.
Despite the adverse reaction of environmentalists to the exploration of oil and gas in the pristine regions of the Arctic, the companies continue to search for hydrocarbon resources beyond the Arctic Circle. Approaches of different countries and companies to the High North and Arctic resources development and new technology trends will be discussed in the Lecture.
Bodil Pedersen
Topic: The Norwegian Maritime Authority's involvement in development of international Maritime Regulations with emphasis on Polar Regions
Senior adviser with work tasks including leader of NMAs internal forum for polar shipping, took part in the development of the polar code in IMO and in national group, Leads work with interpretations of the polar code among arctic states in PAME and Issuing polar code certificates to Norwegian flagged vessels.
Conference topics
This conference is organized as joint event of the 3rd COTech (Computational Methods & Ocean Technology) and OGTech (Oil and Gas Technology) to provide a platform for academics and professionals working within Computational Methods, Ocean Technology and Oil & Gas Technologies to come together, present their recent works in the area, exchange ideas, and establish professional networks.
It will serve as a forum for a multidisciplinary research and brings together Norwegian and invited foreign researchers to enable them exchange their research experience and dessiminate their results within the field.
Topics for presentation on the conference and publication include, but are not limited to, the following research and application areas.
Wind Engineering and Renewable Energy
Advanced Computational Methods & Applications  in Marine, Subsea and Offshore Technology
Computational mechanics, Structural Integrity and Design Optimization
Structural Integrity Management and Life Extension of Structures
Cold Climate Region Technology
Energy Resources Development in the Arctic
Technologies in the Upstream Sector in Oil- and Gas Industry with Emphasis on the High North
Smart Operations and Maintenance
Industry Events
Local organizing committee
The Ullandhaug campus
The UiS campus at Ullandhaug is reserved as the conference venue in Stavanger.
With its population of 200 000, Stavanger is the city that combines the amenities of large urban areas with the warmth of old timber houses and green and open spaces. Our city is only a short distance from the breath-taking outdoor sites in the South West of Norway, such as Pulpit Rock.
More information about the Stavanger region (external website)