Thursday 30 June 2022 09:00-17:00,
University of Stavanger.
Sign up for the "Critical metals' recovery and recycling for a clean and sustainable energy future" workshop.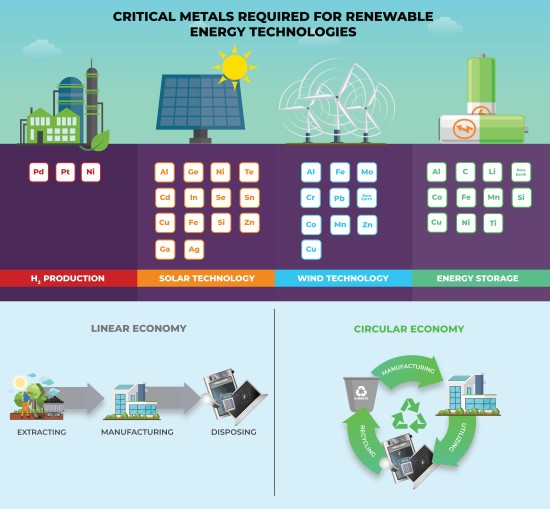 Recycling and recovery of critical metals is one of the focus actions in EU circular economy mission. The recovery and recycling of metals from waste present an opportunity to ensure appropriate levels of supply of critical metals while reducing the negative environmental footprints. Breakthrough in technologies for metal recovery will enable sustainable transition to low CO2 emitting future.
The recycling and recovery of metals from the secondary sources will decrease the environmental impacts associated with mining, ensure responsible consumption via circular economy and support to increase the share of clean energy by recycling metals back into the value chain.
12 talks from the specialists in the field of critical metals' recovery and recycling and sustainable use of these materials coming from academia, industrial research and business branches will be presented and discussed at the workshop.
Invited speakers:
Ingunn Westvik Jolma , University of Stavanger, Norway
Ole Marten Dotterud , Glencore Nikkelverk AS, Norway
Emmanouil Manos, University of Ioannina, Greece
Roberto Fernández de Luis, BCMaterials , Spain
Moschovi Anastasia Maria, Monolithos Ltd., Greece
Martina Petranikova , Chalmers University of Technology, Sweden
Alexander Krivokapic , IFE, Norway
Steinar Sanni, University of Stavanger, Norway
Ulric Schwela, Salus Mineralis, United Kingdom
Dag Øistein Eriksen, University of Oslo, Norway
Frédéric Georges Fontaine, Université Laval, Canada
The workshop will be held at the University of Stavanger campus on 30th of June and can be attended personally or remotely through Zoom. Link to the event will be sent to all the registered participants.
Please register here: https://forms.office.com/r/sQ2MiJ6X7W