All inbound exchange and internship students must be nominated by their home institutions before coming to University of Stavanger. Nominations without an agreement is not accepted.
E-mail inboundexchange@uis.no and write which e-mail you wish to use in our nomination system. (We prefer that you registere a shared e-mail from your home institution if possible.)
Registered e-mails will be saved in our system, so the next year you wish to nominate students again, you do not need to do this step.
The online nomination service will open in the beginning of March for autumn semester and beginning of September for spring semester. It is only possible to nominate "autumn semester" and "autumn/spring semester" during March-May and "spring semester" during September-November.
The first time you log in you need to order a password under 'No password.'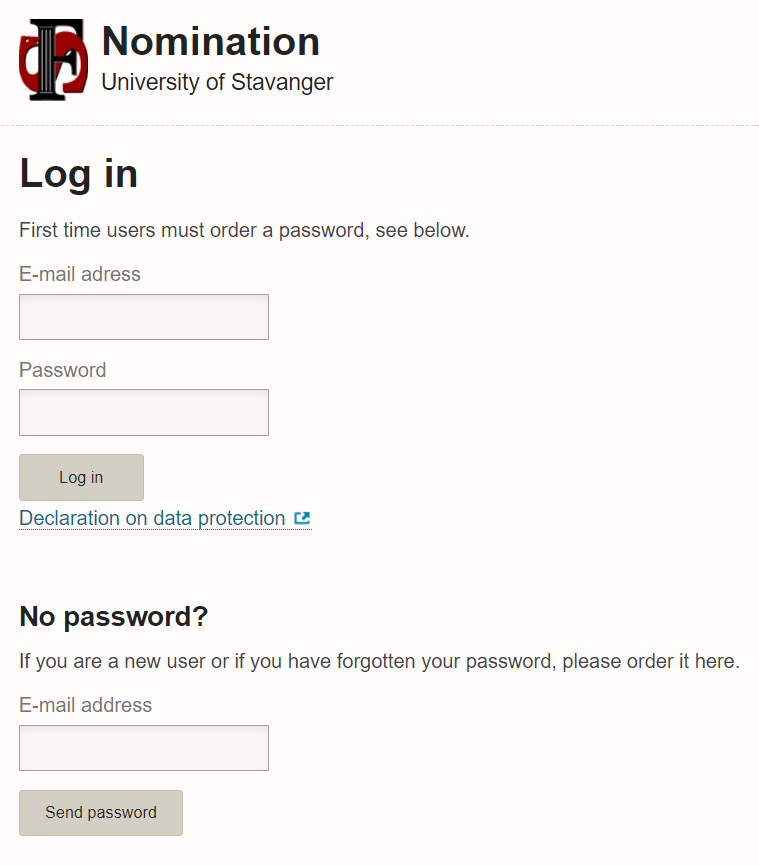 Other universities in Norway also use this system. It is therefore important that you check that "University of Stavanger" is written on the page.
Select the relevant agreement and click on the button "Add new nomination" to nominate a student on the agreement.
If the correct agreement is lacking, please contact us.
Please do not delete students that is registered on the wrong agreement. It is better that we at the International Office change this manually.
Please take care to enter the student's information correctly:
• E-mail address
• First Name
• Family Name
• Gender
• Birth date (format YYYY.MM.DD)
• Citizenship
• Term(s) for admission (one or two semesters) (Please contact us if the term is not showing)
Click on "Add Nomination" to save the data. After around 30 minutes the system will send a confirmation e-mail to the nominated student's e-mail address, and a copy to you. You may cancel the nominations within 30 minutes without any e-mail being sent to the student, by clicking on the delete button (red circle with the white cross). However, if you delete the nomination after 30 minutes, the student will get an automatic e-mail that their nomination has been cancelled. Please contact us to delete your nomination manually if you do not wish your student to receive this automatic e-mail.

Please note that the data you have entered about the student cannot be edited once it has been entered by clicking on the "Add Nomination" button. If you typed in incorrect data, please contact us and we will deleted the nomination manually and you must nominate the student again.
If you nominate master's level student, we encourage you to upload documentation that confirms that the student is at master's level.

Check the application guide for information about the obligatory documents the students need to upload.
Complete Steps 2 and 3 for each student your institution is nominating to the University of Stavanger. Once you have added a nomination, see the list of students you have nominated, and their status.

You may now see the details and upload documents for each student you have nominated, by clicking on the button "Documents and Details", or nominate more students.
Students receive an e-mail
When you have finished the nomination, the students you have nominated will receive an email from the University of Stavanger confirming that they have been nominated by your institution. The students will be given further instructions for completing their application in the online application service for students 'SøknadsWeb'.

Student application status
You can keep track of each student's status by logging in on the online nomination service any time. On the "Available agreements and admission" webpage you may see all relevant agreements and the application status of your nominated students; nominated, applied, admission granted, withdrawn etc. You may also upload further documents for each student.

Letters of admission will be sent out latest in the beginning of December for the spring semester and beginning of June for the autumn semester.
When logging in
E-mail cannot be found (when ordering a new password)
Please check that you have written in the correct e-mail that you registered in step 1. If you still do get the same error please contact us.
When nominating
Expired exchange agreement
Most likely your e-mail is registered at an old agreement that has experienced. Please contact us and we will add you to the correct agreement.
Term (spring/autumn) does not show up
Please contact us and we will add the term in our system.
E-mail to the student already exist in our system:
Please check "yes" to confirm that this is the same student. If that is not possible, then the student might have created an extra account by mistake that we need to delete. Please contact us in that case.
We have started using the Online Learning Agreement. We prefer that the students send this to us after receiving their Letter of Admission, not before. Read here for more information about Erasmus+ documents.
This is only applicable for partners nominating Erasmus+ students to the University of Stavanger.
It is required that all inbound exchange students have a minimum B2-level of English. This level is self-assessed and students do not need to provide any documentation or submit an English test score. For further reference and description of European language levels please check the self-assessment grid.
Nomination deadlines are the same as the application deadlines. You can find them in our application guide
Useful links