The University of Stavanger took part in INTED in Valencia to present the DIGISIM app, a three-year long development project co-funded by the EU. The result is an interactive simulation app that makes it easier for students to train on practical nursing procedures on their own.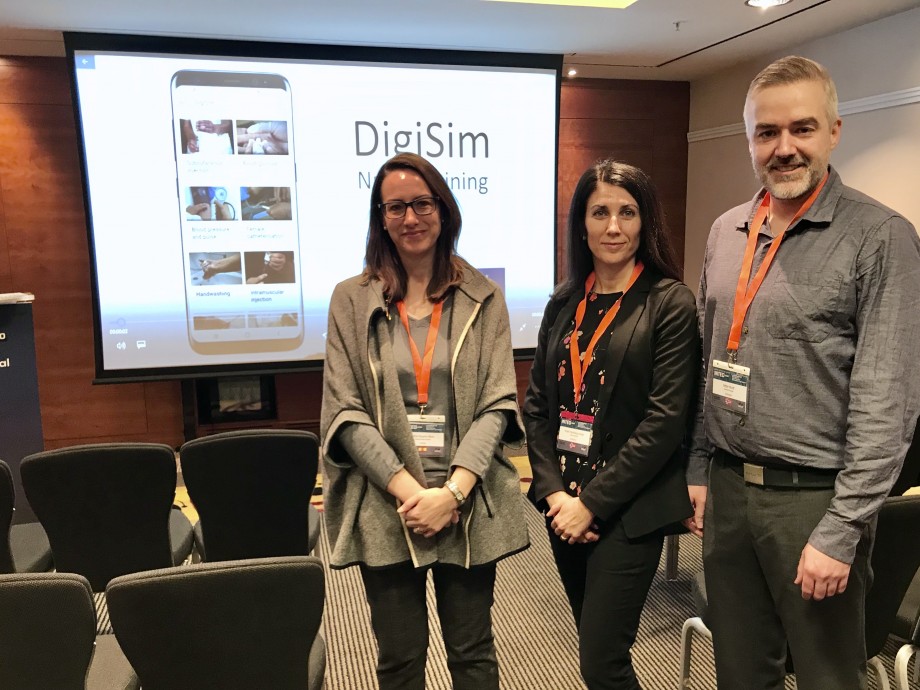 DIGISIM (Development and implementation of a digital Skills Simulation App for European Nursing Education) is a cooperation between the University of Stavanger, University of Nottingham and Universidad Católica de Valencia, and has been developed with co-funding from the Erasmus + Strategic Partnerships programme.
Sharing knowledge on international arena
INTED is one of the largest international education conferences for lecturers, researchers, technologists and professionals from the educational sector. More than 700 experts get together to present their projects and share their knowledge on teaching and learning methodologies and innovations on educational technology.
Esther Navarro, Dr of Nursing and university lecturer from Universidad Católica de Valencia presented the project, together with senior adviser Mari Linn Larsen and head engineer Petter Mordt, both from the University of Stavanger's department for e-learning.
"It has been great to develop this app, which is a tool that helps students get enough training and increase their confidence in certain procedures. They learn by repetition, and reduce anxiety," Navarro explains.
Working across borders and over several years, is both challenging and rewarding.
"We wanted to share what we learned a lot about the hurdles we met during the project, and how we managed to solve them. For instance, it was a challenge identifying the procedures to be included in the app, taking into account the different practices in the three countries," Petter Mordt say.
App shared with the world – for free
The app is almost ready and will soon be available to education institutions all over the world – free of charge. The content will be available in Norwegian, English and Spanish and is tailored to the respective countries' procedures for nurses.
"All three universities in the project will use the app in practical procedures in the education of nurses in the future. It is expected to reach even more users, especially in English- and Spanish speaking countries," Mari Linn Atterås Larsen explains.
The project also aims to make the academic content from the three nursing education programs more transparent, so that there is an increased common understanding of the subject across national borders.