The library is open, but all visitors must keep a distance of 1 meter or use a facemask.
In compliance with the new infection prevention guidelines from NIPH there are new and stricter rules for visiting the library.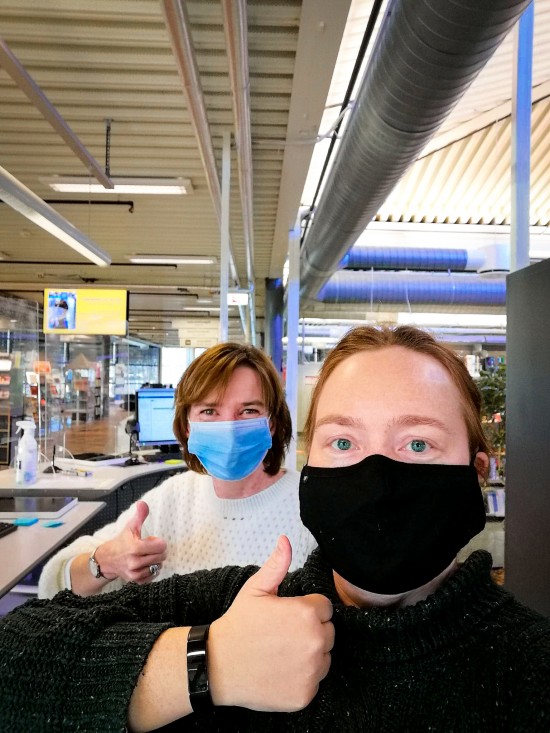 If you are not able to maintain a distance of 1 meter you must use a face mask. You can buy face masks at the SiS bookstore or SiS cafés.
UiS students may use a limited number of study spaces in the library. Book a study space in TimeEdit.
All our classes, events and guidance will be online. Please contact us at ub@uis.no if you have questions about our services.
The 3D-lab, the Study Lab and the Data Lab are closed.
The libraries at SUS are unstaffed until Jan 18th. The librarians are available online. Click for more information.
We encourage all visitors to the library to be considerate to each other and our staff and to follow infection prevention guidelines.
Remember:
Don't visit the library if you have corona like symptoms.
Keep a distance of at least 1 meter. Use a face mask where this is not possible.
Wash your hands often and thoroughly.
Book a study space if you want to study in the library.
Only use available areas. Respect signs and do not use areas that are off limits.
Bring your own laptop. Only a limited number of computers are available to use for printing and searching for literature.
Use available sanitizer to disinfect your workspace before use.
Clean your study space after use.
Always follow the infection prevention guidelines from NIPH.