Monday 3 May 2021 11:00-12:00,
Zoom.
This year we are introducing our webinar series as part of the project Caring Futures.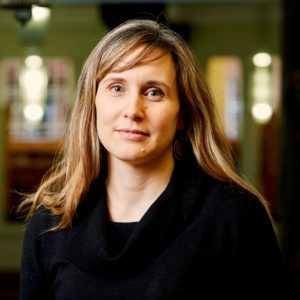 On Monday May 3rd 2021 we have invited associate professor Amelia de Falco from the Faculty of Arts, Humanities and Cultures at the University of Leeds, UK.
De Falco specialises in questions of vulnerability, ageing, care and the posthuman in contemporary cultural narrative, and will be presenting her current research projects on Posthuman care.
At the start of the webinar, Amelia de Falco will give a 15-20 minute presentation before we open for questions and debate with and between the participants.
Webinar chair: Ingvil Førland Hellstrand
The project benefits users in primary and specialist healthcare, welfare services, and society as a whole. The project safeguards that increasing the use of new technology in care corresponds with quality in care for users and professionals and its implications for practice, policy, and education. QUALITECH will create a New care ethics paradigm to inform and ensure the quality of care in caring futures.