Auditorium E-164 was packed at the public defence of Mona Minde's doctoral degree.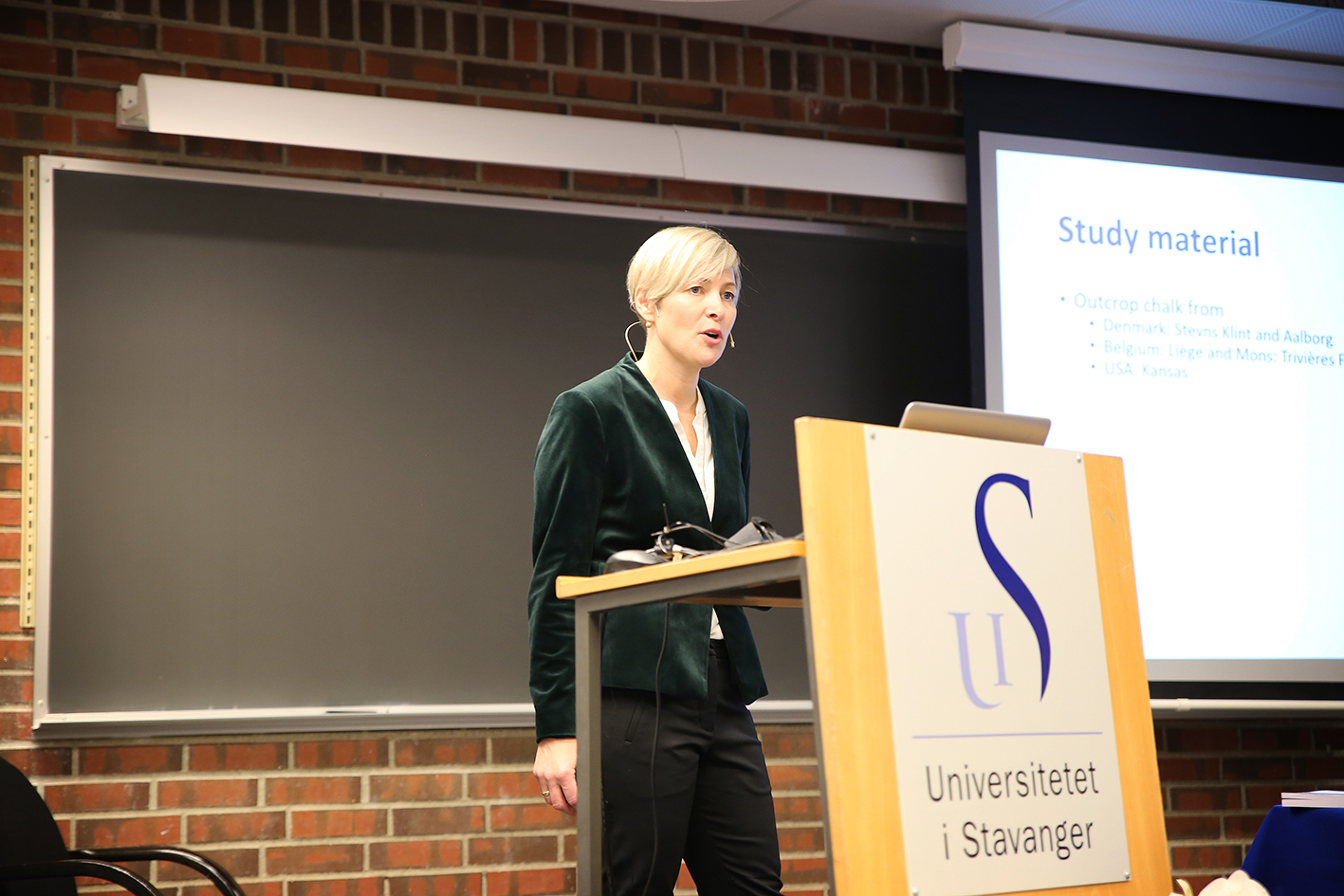 It might be because of her thesis, but it might as well be because Mona Minde has a lot of friends and supportive collegues at the University.
About her work: To be able to understand and model core scale and field scale effects of EOR and IOR methods it is important to study these effects at pore scale. The understanding of the underlying mechanisms that drive changes in geo-mechanical parameters in reservoir rock and can enhance oil production is of utmost importance as an input to models and simulators in order to predict reservoir behaviour. Mona Minde's thesis "Mineral Replacements in Flooding Experiments Linked to Enhanced Oil Recovery in Chalk" investigates these mechanisms.
Cost reducing
Understanding these mechanisms will reduce costs and the environmental impact linked to injection of seawater-like brines. Mona Wetrhus Minde's work will help to fully understand which processes govern alterations in texture, chemistry and mineralogy when flooding rocks with non-equilibrium (imbalanced) brines. Furthermore, Minde's work contributes to completing the «toolbox» for studying IOR/EOR effects.
Minde was confident all true her defence, also when answering the questions from the committee.
Industry application
The theme of the trial lecture was "How to utilize the generated fundamental knowledge as input for EOR Simulation and build the bridge between basic knowledge and practical industry application". As for Minde, this is a relevant topic. She wrote her thesis at The National IOR Centre of Norway. With its eleven industry partners, the Centre provide a good arena for PhD candidates to collaborate with the industry.
At Mona Minde's public defense, there were experts from both Wintershall and British Petroleum, recognizing the importance this research could have for the industry.
Minde's committee:
Dr. Peter Armitage, British Petroleum, UK
Professor Martin Fernø, Universitetet i Bergen
Ana Todosijevic, Wintershall
Associate professor Tina Puntervold, Universitetet i Stavanger (administrator)
Professor Udo Zimmermann has been Minde's supervisor while Professor Merete Vadla Madland has been co-supervisor.
Text and photo: Kjersti Riiber