Rector Klaus Mohn's speech at the university's doctoral creation ceremony on 28 October 2022.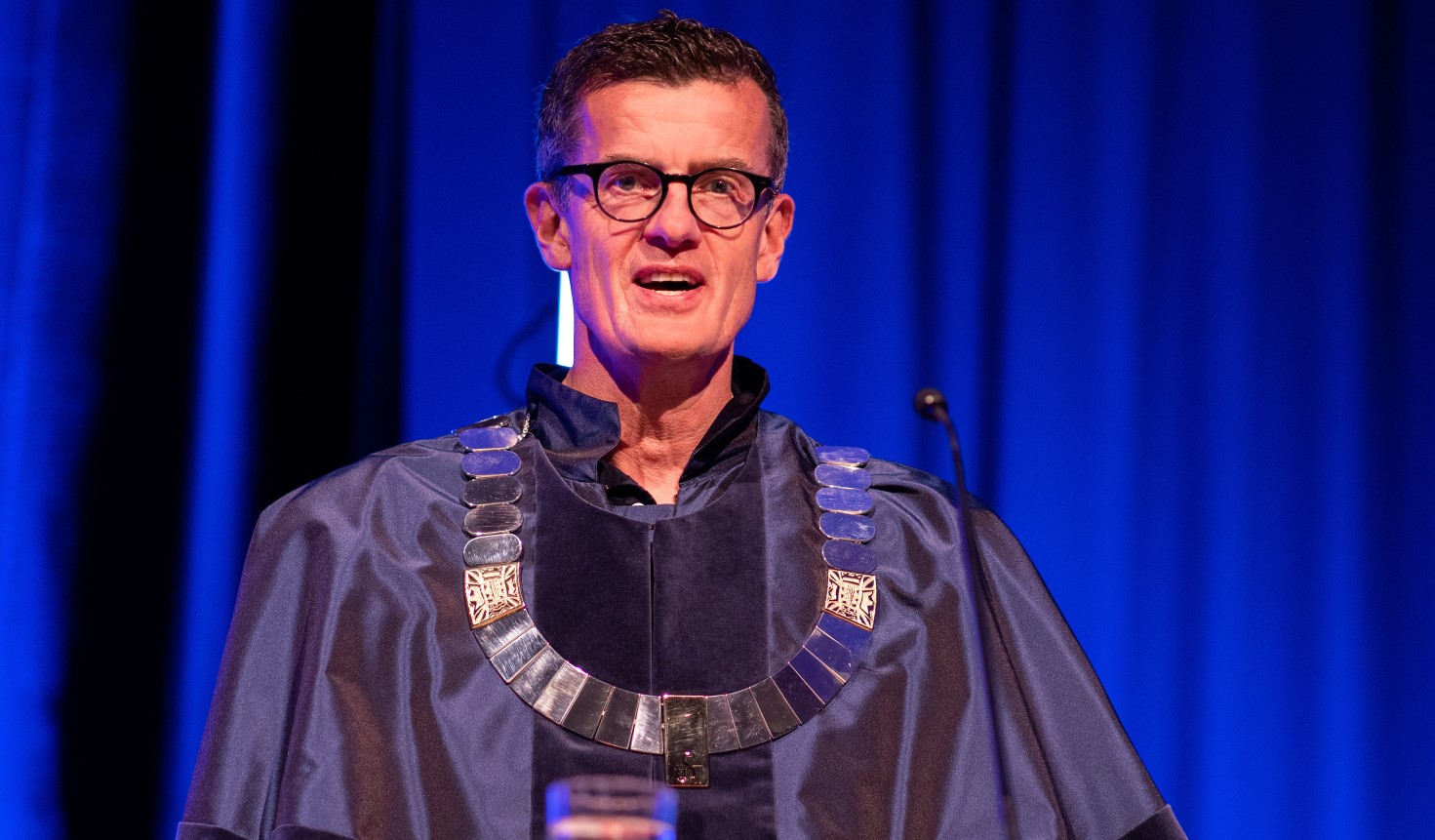 Dear all!
Welcome and happy anniversary!
In keeping with our traditions we are celebrating the University of Stavanger's anniversary with a party. In particular we are celebrating the fact that 61 of our candidates have been granted approval for their doctoral theses and have successfully defended their research over the past year. Hearty congratulations to you all!
Research helps us to understand things and provides us with the knowledge to respond. And that is something that could be needed as we face escalating challenges and turmoil in the world around us. 
We are all appalled by Russia's invasion of Ukraine and our Ukrainian students and employees have our deepest sympathy. Our students from Russia and Belarus are facing a difficult situation involving great concern about what is happening in their home countries and in Ukraine. You are in the thoughts of all our colleagues and fellow students.
At the UiS, we have chosen to fly the Ukrainian flag. Every day. This is our way of demonstrating our solidarity with Ukrainians and the aim of their heroic struggle: democratic self-government of their own country. The flag is also a reminder of the University's role in a world with an uncertain future. We will always allow our banner fly high in order to represent freedom, critical reflection and the search for truth.
We are also impressed by the brave women and students in Iran who have been leading protests over the last few weeks against a brutal and oppressive regime. At the University of Stavanger we have around 100 students and several dozen employees from Iran. We support them all in their condemnation of the power and violence which is aimed at those who are demonstrating for the right to live free lives in Iran.
What role can the University play in a world suffering from unrest and major global challenges?
By engaging in knowledge production and open public exchanges of opinion, the University is laying the foundations for building democracy both at home and abroad. By offering higher education and instruction, we are training young people to be tolerant and curious and to engage in critical reflection and search for the truth. In this way we are helping to develop freedom of expression and build trust, something which many people believe is the glue that holds democracy together.
Our University has many good people who support this. Today's main speaker is one of them. Professor Marianne Hafnor Bøe conducts research on feminism in Islam, with particular emphasis on Iran. During the last few weeks she has been informing the public debate by providing important new insights about conditions in Iran.
This year I am particularly proud of the fact that five researchers at the University of Stavanger have been appointed to the Young Academy of Norway at which our own Marte Cecilie Wilhelmsen Solheim has recently been appointed as the Academy's Deputy Director. This indicates that we are providing the academic world with highly talented researchers.
Another researcher who has made her mark in the public arena in recent years is history professor Marie Smith-Solbakken. She has bravely been bringing to light the stories told by the friends and families of those involved in the "Kielland accident" and she has unearthed new insights into the official story. Her involvement accords with the UiS's vision of challenging the known and exploring the unknown.
The University's role is to contribute towards the major social challenges of our time. Consequently the green transition is one of the UiS's special initiatives. Two new centres at the UiS are reflecting these initiatives.  
The Centre for Sustainable Exploitation of Energy Resources will be looking at how the offshore oil industry can be exploited in the transition to renewable energy and carbon capture from the use of fossil fuels.
The second centre is a Greenhouse, a research centre for environmental humanities where cultural and historical perspectives will be key to understanding the types of policy development and cultural changes that will be required in order to effect a successful transition. 
The University of Stavanger has over 750 international students and over the course of just a few years we have doubled the number of our international employees, from 300 to almost 600. We are proud of this. We are an international university in an international region.
It is therefore with a heavy heart that we have registered the government's proposals about charging tuition fees for non-EU students. Such a change would lead to a substantial decrease in international applications to the UiS and it would simultaneously close the doors to students from impoverished countries. It would also mean that our business and labour markets would miss out on important, valuable expertise.
Today the UiS is celebrating its 18th anniversary. Over the course of these years we have seen rapid developments. I promise that we will retain our enthusiasm for delivering the type of forward-looking education that is required by our country and the world: challenging the known and exploring the unknown.