The Faculty is home to a comprehensive research milieu focused on subjects relating to educational science and the humanities. We offer teacher training at all levels, ranging from kindergarten and secondary school teachers to sports studies and education on special needs, languages, religion, history, drama and art and handicrafts. The Faculty will enable you to undertake organised doctoral research training, work with leading researchers and participate in exciting research projects.
About the Faculty
The Faculty is organised into three departments, two national centres of expertise, two research centres and one Faculty Administration Department. The Faculty has been under the leadership of its Dean, Odd Magne Bakke, since January 2020.
The Faculty offers relevant education that is academically demanding and challenging, but which provides the opportunity for mastery. We are keen to ensure that students leaving us will be well trained in critical and analytical thinking, will have the ability to engage in ethical reflection and be aware of the need to pursue continuous learning and academic development. We train teachers and provide further education for teachers who are already working in schools and kindergartens.
We are a national hub for educational research, along with the Norwegian Centre for Learning Environment and Behavioural Research in Education (the Learning Environment Centre), The Norwegian Reading Centre, Filiorum – the Centre for Research in Childhood Education and Care and the Knowledge Centre for Education. By drawing on the Faculty's research areas we are able to strengthen the education we offer, and consequently benefit our students too.
The Faculty's research areas also include humanities subjects such as languages, literature, religion, culture and history.
In addition to our four centres, our education and research are organised under three institutes:
• Department of Early Childhood Education
• Department of Education and Sports Science
Relevant research at the forefront
The Faculty has co-ordinated its research into nine programme areas which operate across the Faculty's organisational divisions. These have proven to be key in the development of our research and our research environments.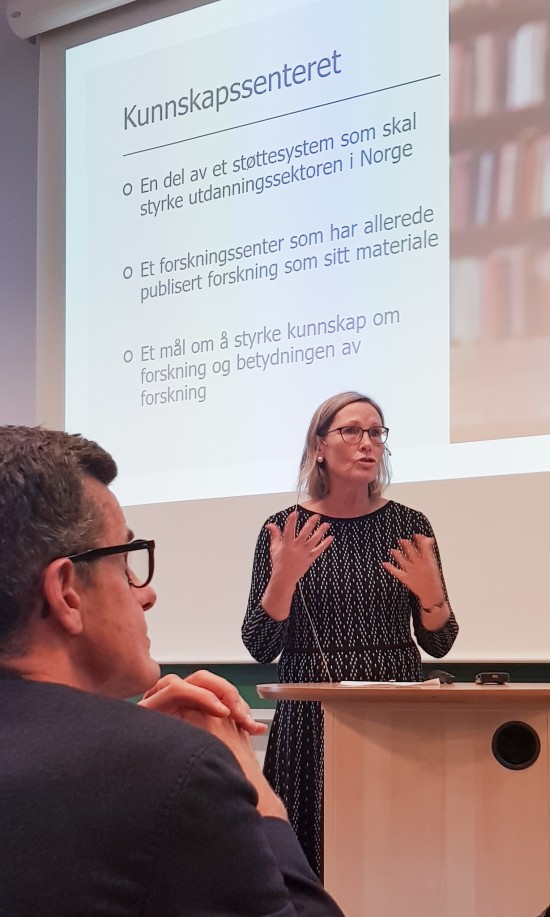 We have four national research centres, and these have helped to provide the impetus behind the fact that our research environments are at the forefront in both national and selected international areas. 
The educational research conducted at the UiS benefits from close cooperation with the field of practical studies.
Researcher education
The Faculty is engaged in the comprehensive education of researchers and has a PhD programme in Educational Science and the Humanities, where we currently have around 60 PhD researchers. We also have a Public Sector PhD, in cooperation with the municipality of Stavanger.
Research Schools
The National Research School in Environmental Humanities (NoRS-EH) is run by Dolly Jørgensen at The Greenhouse, and was established in 2019. The Faculty is also a partner in the following research schools: NAFOL (The Norwegian National Research School in Teacher Education, PROFRES (PROFessional RESearch), WNGER II (Western Norway Graduate School Educational Research II) and TLBR (Text, Sound, Images and Space).
Studies at the Faculty of Arts and Education
The faculty offers Bachelor's, Master's and PhD degrees in educational sciences, the humanities, sport, drama and art and handicrafts.
We also have an extensive portfolio for students interested in one-year studies or continuing and further education.
As a student at the Faculty, you will be tutored by some of the foremost researchers in their fields. Students studying to become teachers will be equipped with sound digital expertise by Didactic Digital Verkstad (Didactic Digital Workspace).
We can help you to become a teacher of all types of pupils, ranging from tiny tots to adult students, and we offer full teacher training programmes for kindergarten, primary school and lower secondary school teachers. With a Master's degree in a specialised subject you can also undertake a PPU (1-year programme in educational theory and practice) to become a lecturer. 
With humanities subjects on your timetable you will acquire knowledge about past and present social and political affairs, the relationship between different religions and ethics, societies and philosophy of life, while at the same time you will also learn to see how interconnected they are. You will learn to understand changes and how you are part of the changes. In a world where distances are becoming shorter, languages and cultural understanding are the key to good cooperation across the board and to development, in order to attain goals ranging from purely local ones to the UN's sustainability goals.
We are also keen to ensure that practical work carried out in real jobs out there is not just for professional students doing teacher training, but is also included in the studies of our humanities students.
Faculty management
The Faculty is run by its Dean, Odd Magne Bakke, and Faculty Director Karoline Holmboe Høibo. Brita Strand Rangnes and Per Henning Uppstad are Vice-Deans for Education and Research. Kåre Andreas Folkvord is in charge of cooperation with the education sector. The Department and Centre leaders are included in the management group.
You may also be interested in:
Administration Department
The Administration Department is responsible for management, consultancy and administrative procedures at the Faculty.
The Administration Department at the Faculty of Education Sciences and Humanities is located in Hagbard Line's House on the 1st floor of A Block. Faculty Director Karoline Holmboe Høibo is the Head of the Administration Department.
Office opening hours are:
Monday to Friday, 0830-1130 hrs and 1200-1400 hrs.
Phone: +47 51 83 34 00
Faculty Board
The Faculty Board is responsible for making decisions about the Faculty's main goals, priorities and strategies..
This includes making decisions about the education offered, presenting proposals to the University Board and the Education Committee about such and defining areas for research and social contact initiatives.
Faculty Board, 2021-2025
Chairman: Jørn Pedersen (Municipality of Stavanger)
Deputy Chairman: Hilde Inntjore (University of Agder)
Scientific employees: Frode Skarstein, June Junge, Klaus Johan Myrvoll, Briten Russdal-Hamre
Technical/administrative employee: Kjersti Gjedrem